Questions to ask your photographer
Questions to ask your photographer
Have you ever wondered what questions to ask a photographer before hiring them to photograph your wedding?
I'm a life-long, self-professed, perpetual collector. I have as many collections as, well, as there are collections. I collect vintage fountain pens, autographs, 1:43 scale James Bond automobiles, Don Blanding books, Taylor Swift CDs, Hot Wheels, and Pan Am clipper memorabilia, to name a few.
To stumble across a 1930 autographed Don Blanding first edition of Hula Moon is sheer joy. To win on auction a letter written and delivered aboard Pan Am's 100th transatlantic flight in a Boeing 314 clipper is nothing short of fantastic. And to search for years for a 1940s blue moire Eversharp Skyline fountain pen with a 14K gold flexible nib makes the find all the more exciting. And then to restore and use that fountain pen for daily journaling is, well, it's pure collecting bliss.
But I also collect questions. As a wedding photographer, I happen across dozens of questions from brides-to-be, wedding planners, groomsmen, mothers-of-the-bride, wedding vendors, magazines, and just about everyone else. Probably the most frequently asked questions come from brides-to-be. I always tell them there are three questions they should ask before selecting and hiring a photographer.
Question #1
Question #1 – May I view a few entire wedding collections/galleries?
I can't count the number of brides I've spoken with who hired their wedding photographer based on their Instagram or Facebook posts. Fast forward to after the wedding. Unfortunately these brides discover photographer's dirty little secret – we only post our favorite photos on Instagram and Facebook. Just like everyone else does.
The truth is we're all guilty of this. After all, social media is meant to "highlight" a photographer's work, not exhaustively showcase everything. For this reason alone, always ask a photographer to view a few of their ENTIRE wedding collections or galleries. In other words, ask them to see every photo a past bride received.
This way you will get a feel for what an average wedding gallery looks like. You'll get an idea of an average photo count, shot list, and breakdown. Obviously, every wedding is unique. However, after viewing three or four galleries from a single photographer, you'll get a pretty good idea what to expect from them.
Question #2
Question #2 – Would you unpack your "fine print" for me?
Every photographer's contract contains fine print. If your photographer doesn't have you read and sign a contract, run away! If your photographer doesn't spell out the fine print for you in their contract, run away! If the fine print in your photographer's contract resembles your iPhone user's agreement, run away!
Your photographer's fine print should include such helpful information as reservations, cancellations, payments, weather, copyrights, etc. It should clearly address things couples need to know but might not remember to ask.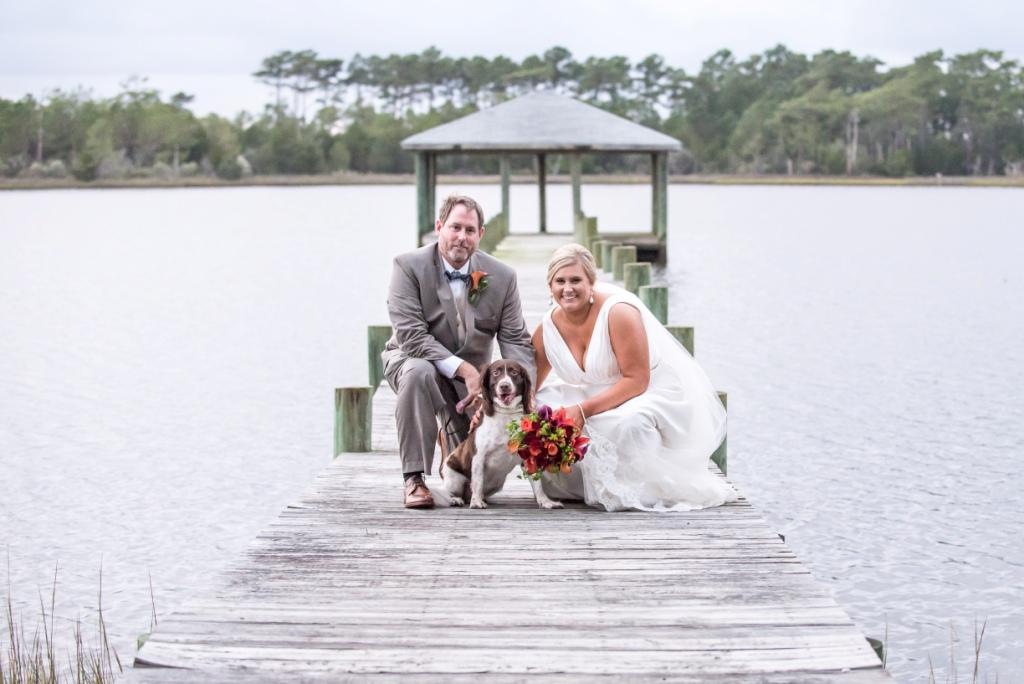 Question #3
Question #3 – What makes you different from other photographers?
The unfortunate truth is many brides choose their wedding photographer based primarily on price point. In the past month alone, I've had a bride tell me, "Your photos blew me away! We would have expected to pay $5,000, not $1,500, for photos like yours." But, I also had a bride recently tell me, "We don't want to spend more than $500 on a photographer…you're too expensive" (This same bride spent over $6,000 on her wedding venue and $2,000 on her gown).
We explain to brides all the time that every single thing they purchase for their wedding will be gone or never seen again less than 24 hour after they say, "I do." The cake will be eaten, the flowers will wilt and die, the gown will be boxed up or sold, and the venue will be readied for the next couple. Other than their wedding rings, their photographs will be all that remains of their special day. Forever.
Why not invest in photographs that will last a lifetime? Why not invest in photographs that will bring a smile to your face every time you look at them? Why not invest in photographs that will help you remember and relive the most special day of your life?
Obviously, price points are important. But please don't make price points the deciding factor when hiring your wedding photographer. Find the photographer whose style and images and heart best resonates with your own. You might have to spend more or you might pleasantly get to spend less.
Celebrating YOU
How we view your special day is unique to Beaufort Photography Co. We do not just take a few posed pictures. Rather, we tell your unique story in photographs that will last a lifetime and leave you smiling every single time you look at them. We celebrate YOU and your love!
Unlike so many "photographers" today, we didn't just go out, buy a digital camera, and decide we like taking pictures. We've been capturing for years the most special day brides and grooms will ever experience. The creative aspects of photography, as well as the technical aspects, are equally important to us. Quite simply, we want to capture your special day with photographs that take your breath away, cause you to remember and relive the best day of your life, and leave you smiling every single time you look at them.
Let's talk
So if a wedding, engagement, proposal, or elopement is in your future, let's talk! We're currently booking for all of 2018 and 2019. You can reach us at:
Website
Instagram
Facebook
Text or Call
Email