Bohemian brides…best friends…back-to-back weddings. This was the premise behind our recent Bohemian bridal photo shoot with Kimberly and Jadranka.
Beaufort Photography Co. teamed up with a group of amazing models and wedding vendors to photograph these beautiful Boho brides on their wedding day along the Crystal Coast in Atlantic Beach, North Carolina.
From the boardwalk to the forest to the beach to a 1964 Chevy wagon hauling their boards. Over the next few weeks we'll get a glimpse into each of these locales as Kimberly and Jadranka anticipate their most special of days.
As is the case on the Crystal Coast, the weather never stays the same for long. Thirty minutes before the shoot began the sun was shining bright and the only clouds were safely away on the horizon.
After final makeup and hair (courtesy of The Vogue of Swansboro), we headed to the boardwalk in Pine Knoll Shores. Like a motion picture scene change in Hollywood, the cloud cover descended and the golden sun skipped town. Fortunately for us, the rain held off until just after the shoot ended at 8:30 that evening. You just have to love the weather in coastal Carolina.
The beach was one of several locations for the evening. The vintage wedding gowns (courtesy of A Change of A Dress in Morehead City) looked gorgeous on Kimberly and Jadranka in the breeze. Okay, it was more of a gale, but they still looked beautiful!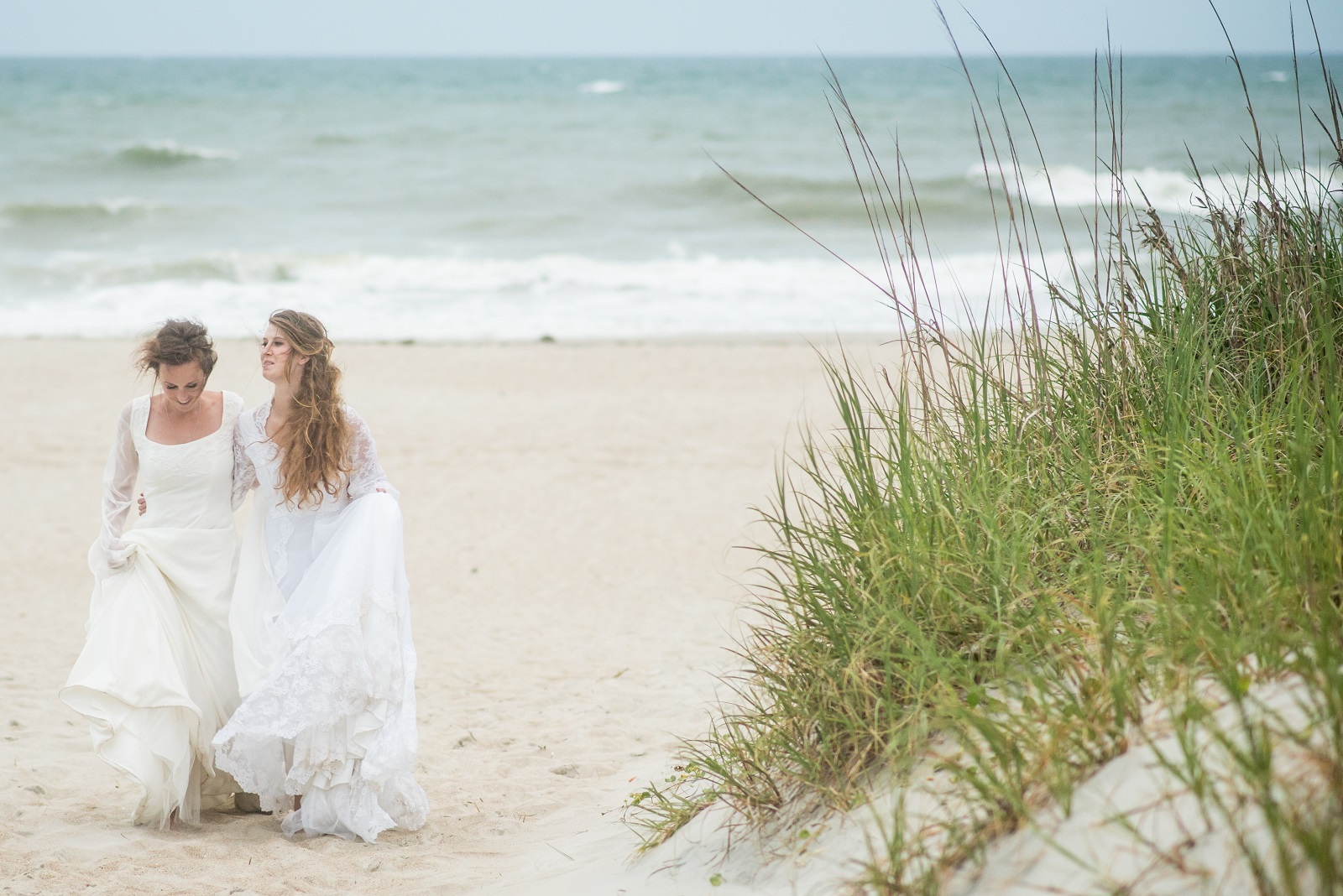 Thanks to an amazing team:
Models – Kimberly & Jadranka
Gowns – A Change of A Dress
Hair & Makeup – The Vogue of Swansboro
Floral Arrangements – Tildy Designs
1964 Chevrolet Wagon & long boards – Thad and Stacy
Photography – Beaufort Photography Co.
Next week we'll head to the dunes! The sea, sand, surfboards, and a station wagon…what's not to love?!